Joe Gram
I'm Joe, I was 25 when we started this adventure. I graduated from UC San Diego – home of the Tritons – majoring in Biology – Neuroscience. Throughout the course of my life I've pretty much tried it all. I studied American Kenpo growing up – I can proudly say I'm an Ed Parker blackbelt. My first job/high school job was coaching at California Sports Center up north for Dave Peterson. During college I tried my hands at bioengineering, computational neuroscience research, emergency medicine, I was a coxswain for a top 25 NCAA Men's Rowing Team, I got involved with student politics, and student life.
After college I worked for an amazing regional non-profit – CONNECT – for two years where I was lucky enough to learn the ropes of entrepreneurship from some of the most successful individuals in and around San Diego. After my time there, I self taught myself web design to pay the bills.
And now I'm here – currently owning and operating the San Diego UNITED Training Center with my business partner who also happens to be my brother.
I'm where I am now because of relentless drive and passion, determination almost to a fault, and the support of amazing people around me.
---

Danny Gram
I was 22 years old when I first started living my dream as an entrepreneur in San Diego. I started my training in gymnastics when I was 4 years old and its been a life long affair with movement sports ever since. I grew up and trained at the California Sports Center in San Jose, California. I was trained under the world champion from China, JinJing Zhang, until attending the Kelley School of business at Indiana University where I studied Sports Marketing and Management. I moved to San Diego to pursue a lifelong dream of opening my own business with my brother. Within 1 year of moving here, that dream had become a reality. San Diego UNITED Training Center first opened its doors on May 1st, 2010. Ever since then I have dedicated my life to movement sports and inspiring an active lifestyle within the community.
Coaching recreational and competitive sports has been a passion of mine since I was 13 years old. I have led our boys to State Team Championship titles and developed numerous gymnasts to the collegiate and the national level. What can I say, we've got chalk in the blood here at San Diego UNITED. I believe in leading by example and helping our athletes to reach their highest potential inside and outside the gym. I consider myself very lucky to share my passion of movement sports with the amazing community of San Diego.
Thank you for the endless support from family, friends, and numerous mentors who have helped me on this journey and continue to make this vision a success everyday!
---
Natalie Gram
My name is Natalie Gram and I was born and raised in San Diego,CA!  I've been apart of the San Diego gymnastics community since 2008.  I was a competitive cheerleader for over 6 years and danced for over 14 years. I have a passion for helping people and nurturing children. This passion lead me to earning my California Registered Nurse certification in 2016.  My husband, Danny Gram, and I have 3 amazing children, that participate in classes at SD UNITED.  It is a blessing watching all our students as well as our own children grow up in the gym and become amazing confident young adults.  I look forward to meeting and learning all about the special families that call San Diego UNITED home.
---
Goals
Become the regional leader of elite gymnastics training
Pioneer an institutionalization of coaching education, training, and development
Establish real working partnerships with regional active lifestyle groups (Aerial, Cheer, Dance, Yoga, Martial Arts, etc.)
Be the crossroads for the active lifestyle community
Always have fun!
Our Values
We believe that sport is an integral part in a child's development aiding in their physical development, social development, and intellectual development.
We believe in sport competition. In the rush of victory and the growth/perseverance learned in defeat.
We believe in family.
We believe in sweat, in hard-work, sacrifice, and in toiling in the trenches.
We believe that sport is as much an intellectual endeavor as a physical.
We believe in staying young, both in heart and in health.
"Awesome training center, awesome coaches
and an awesome time. Love this place!"
- Cory Parys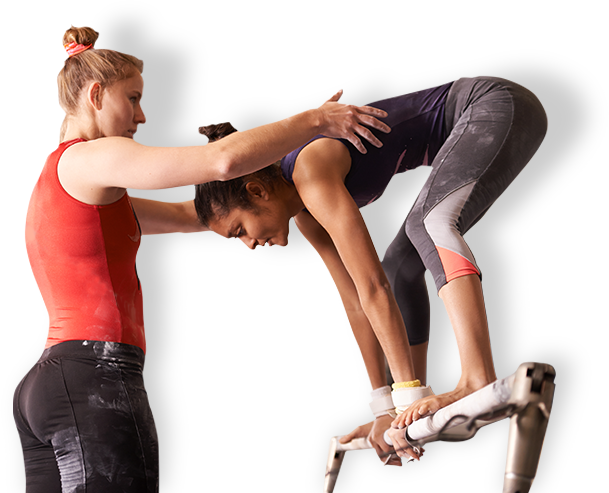 Passionate About Gymnastics?
Join our coaching staff!!!
We are looking for enthusiastic, cheerful and FUN people who
play well with others to join our amazing SD United Team!