Why Gymnastics?
---
Gymnastics is a foundation sport that teaches the fundamental coordination, strength, and skills needed for any number of other sports including but not limited to: competitive gymnastics, cheer leading, martial arts, parkour, dance, diving, pole vaulting, flipping/twisting in extreme bmx/snowboarding/skateboarding, just to name a few.
Beyond that it's a fun, active sport that encourages movement, activity, and play. Whether your child comes to us inspired by the Olympics, X-games, or the latest blockbuster Hollywood movie – we'll introduce them to the world of Olympic Gymnastics.
---
Why SD United?
---
There are 3 things that separate us out from all others in the San Diego Community:
Elite Coaching – Our gymnastics coaching and athlete community is comprised of some of the best in San Diego. Your child will be in qualified, expert, experienced hands.
Elite Facilities – Our facilities offer everything you need for the full gymnastics training experience, including: custom airbag, tumbling tramps, multiple duplicate event stations, etc. This is a place where others gyms come to train on equipment they don't have.
Community – We strive to create a fun, exciting, camp-like environment where people want to be. We are family owned and family operated. We strive to know who your kids are and who you are inside and outside of the gym.  SD UNITED is home to the SDSU Woman's Gymnastics Club team.  Go Aztecs!
---
---
What We Offer
Our curriculum follows standards set down by the USA Gymnastics Federation. We offer the full range of Olympic events. Our program is separated into three distinct groups:
Pre Recreational – for our under 5 years of age athletes
Recreational – for our 5+ gymnastics participants
Competitive – invite only team which actively competes at the state, regional, and national level.
Xcel Gymnastics Team – try out for this exciting team that competes locally, statewide, and regionally.
Adult Gymnastics – Never tried or seasoned veteran, all are welcome.
We also offer accelerated pre-team developmental classes by invite only.
You can also call 858-650-3547 or sign up at the front desk!
"Awesome training center, awesome coaches
and an awesome time. Love this place!"
- Cory Parys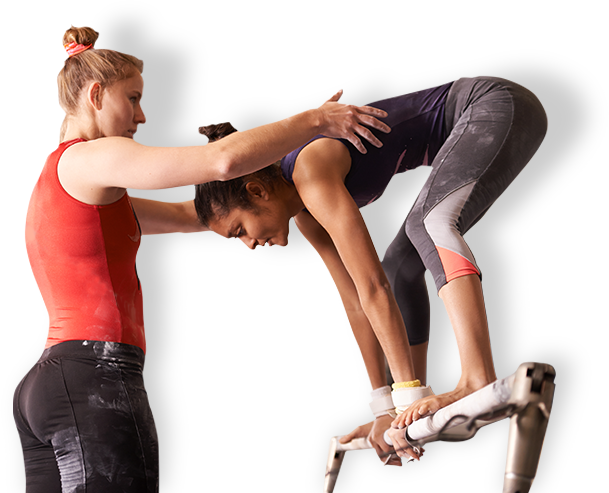 Passionate About Gymnastics?
Join our coaching staff!!!
We are looking for enthusiastic, cheerful and FUN people who
play well with others to join our amazing SD United Team!